Hannah's blog posts are written in collaboration with our partners at Yellow House, which is a space and community for Queer, Trans, Black, Indigenous, and/or People of Colour at Queen's. Thanks to Yellow House for their partnership. Make sure to check out their Instagram to stay current with their events for Queen's QTBIPOC students!
_____
Hi everyone,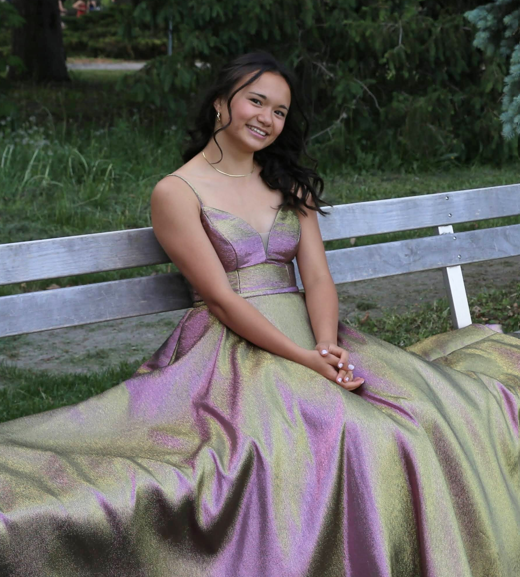 "I have refused to live locked in the orderly house of reasons & proofs. The world I live in & believe in is wider than that. And anyway, what's wrong with Maybe? You wouldn't believe what once or twice I have seen. I'll just tell you this: only if there are angels in your head will you ever, possibly, see one." 
– Mary Oliver
It's been a vibrant few weeks. On the day back in August that I left home, I hugged my puppy goodbye and whispered to myself that life only got bigger from here. I overpacked my parents' minivan. I used an overwhelming quantity of command-strips to stick posters of hummingbirds and starry nights on my beige cinder-block dorm walls. I sat in lectures that made me feel like I was attending a theatre of educational wit and wisdom. I witnessed the full moon rising next to a hazy pink sunset along the pier and almost cried from happiness. 
Nobody told me what adulting could be. I never realized how freeing it felt to have agency over how I moved through the world after a goodbye drop-off hug. University life is so much more than the dreaded overpriced textbooks and wi-fi dilemmas I had heard about. It's become a dance of learning how to learn, of messy hair, and of constantly clicking computer keys. A dance of crocs and PJs. 
To be caught up in this whirlwind of literature and knowledge feels as chaotic as it does hopeful. Expanding my awareness through stacks of poetry anthologies (because…English major things) and a tumultuous relationship with OnQ has only taught me that life grows the more you learn. Learning feels like a new dawn: I'm adulting, I'm learning to be my own person, and I'm learning about the world.
It feels bright to live and learn here. To be in class surrounded by the enchantment of curiosity and elegant masonry. There is such vibrancy to the mundane day-to-day of university life that I'm constantly, pleasantly caught off-guard.
I like how my oat lattes in Starbucks taste like comfort and caffeine. I like how laughter lilts through these halls. I like how the library feels like a cozy den for whirly thoughts and I like how the disco ball hanging up in my dorm room catches golden hour. I like how Kingston captured me with its splendid simplicity of lakeshore breezes and abundant verdancy. 
Now, the tapestry of anticipation and hope October brings is thrilling me. There are piles of leaves to jump in. There's good Thanksgiving cuisine and glitter to smear all over my eyelids for a Taylor Swift album release party. There are creative Halloween costumes to compile and pumpkins to carve. Life calls for colour and joy and continues to broaden, even as schoolwork gets real.
Who knows what will accompany the next steps in my scholarly journey?